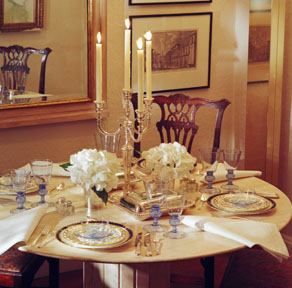 As a full-service interior design firm, Richard Cardello Interior Design draws from years of education and experience to create inviting and appropriate interiors. Communication with the client and attention to detail assure a powerful, effective design. Knowledge of the decorative arts, antiques and historic preservation results in refined, elegant interiors, which are the hallmark of Cardello Design.
RICHARD CARDELLO, ASID, CID has a degree in interior design and a background in art history. He brings a strong knowledge of all aspects of design with an emphasis on custom furnishings. Further, he has extensive experience in budgeting, purchasing, and project management. He is certified in the State of California.
PROFESSIONAL PROFILE
RICHARD CARDELLO, ASID
Certified Interior Designer, # 1860
PROFESSIONAL EXPERIENCE
Over thirty years of experience in all aspects of interior design, including hospitality, residential, and executive office, as well as space planning, and custom furniture, fabrics, carpeting and lighting fixture design.
Richard Cardello, Interior Design, Principal, 1998 to present
Cardello Colligan and Associates, Principal, 1994-1997
Richard Cardello, Interior Design, Principal, 1986-1994
Andrew Delfino, Inc., Senior Designer, 1983-1986
Richard Cardello, Interior Design, Principal, 1973-1983
EDUCATION
BFA Interior Design, Minor in Art History, with Honors
University of Massachusetts at Amherst
HONORS AND AWARDS
ASID Presidential Citations, 1990, 1991, 1992, 1993, 1994, 1998
Design Stars Award, 1996
PROFESSIONAL AFFILIATIONS
American Society of Interior Designers, Professional Member
Chapter Treasurer, 1990, 1991, 1992
Board of Directors, 1990, 1991, 1993, 1994
Education Chair 1993
Nominating Committee Chair, 1997/1998
Hospitality Industry Association
INNSIGHTS Newsletter, Executive Editor, 1993, 1994, 1995
California Council for Interior Design Certification
National Trust for Historic Preservation